30 Jun 2014
AIOU Solved Assignments Code 417 BA Pak Studies Spring 2014
Free Solution of Spring 2014 Assignments of Allama Iqbal Open University is available here
Subject Name : Pakistan Studies (Mutala-e-Pakistan)
Course Code : 417
Level : BA / B.Ed / B(CS) – Bachelors 
Semester : Spring 2014
There are solution of both assignment is available, it is very easy subject, most of the questions will be solved from your own text book of code 417, but objective is little bit tricky therefore I am only sharing objective type of both assignments. I will also add long questions answers if you required, tell me in comments below.
Assignment No. 1 start from here – Page No. 1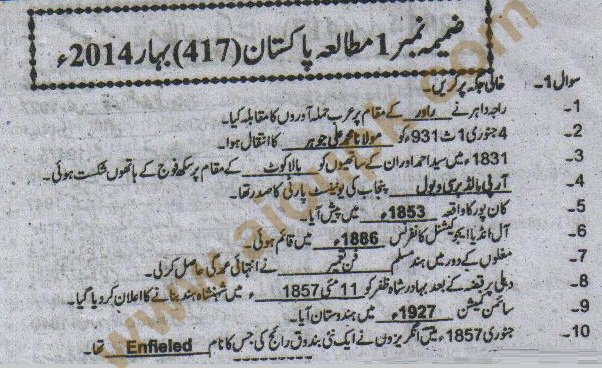 Page No. 2
Second Assi start from here – Page No 3
Page No . 4
As we got many requests for this subject but considered very easy, if you need long answers too, please mention in your comments so that I will also provide you the mentioned page numbers too. This is only for Urdu medium students.
If anyone want assignment question paper for Spring 2014 semester than also contact me, I will emailed you. Thanks and share it please if you really feel this post is useful. More solutions and notes are on the way. Keep in touch with us.
Recommended Posts for You :
Comments