06 Nov 2023
Bahauddin Zakariya University (BZU) Acceptance Rate, Ranking (2023)
This prestigious public-sector university has an overall acceptance rate of about 80%. This means a large number out of the total applicants are selected for admission.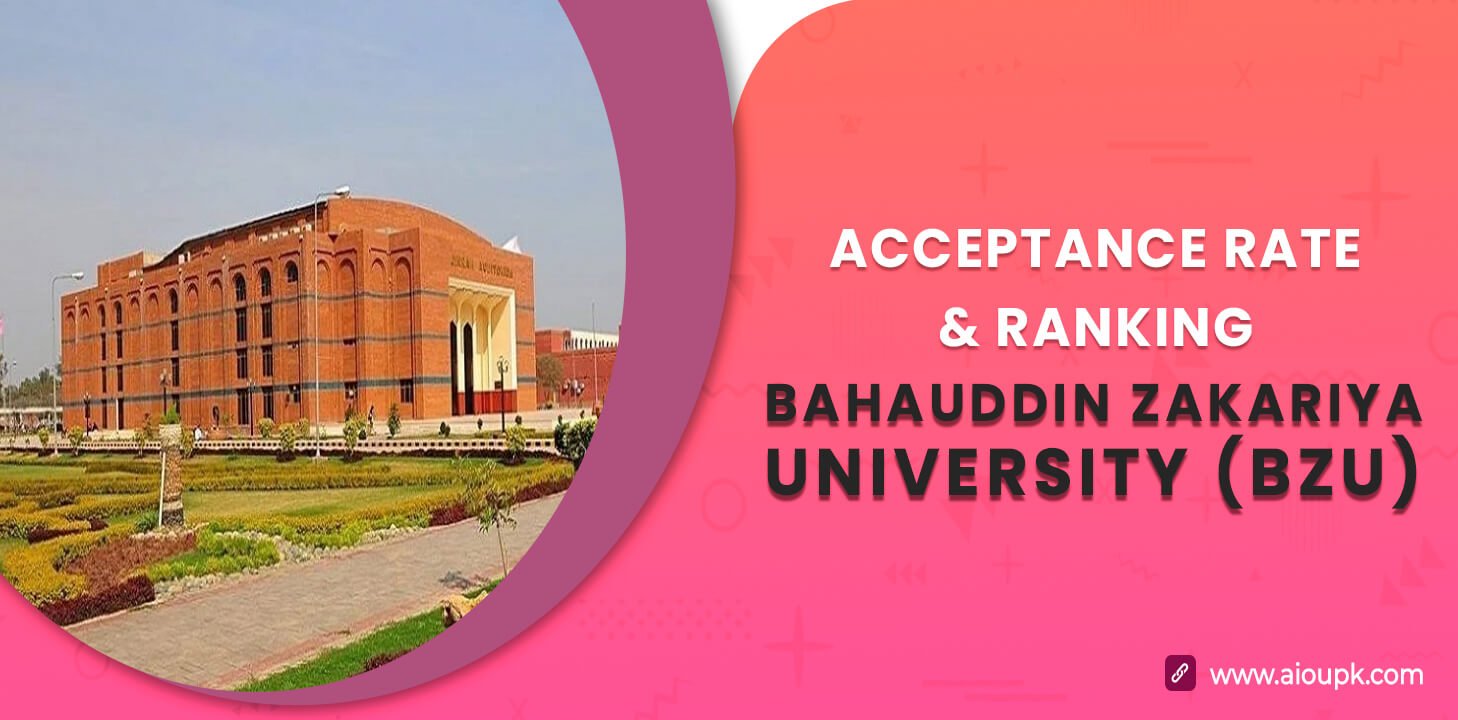 The foundation of this university was laid in 1975 as the University of Multan which was later renamed to Bahauddin Zakariya University in 1979. The university offers Undergraduate, MS/MPhil, and Ph.D. programs in disciplines like Science, Commerce, Business, Language, and English Linguistics. There are a total of about 619 faculty members who provide education to about 26,700 students.
Ranking of Bahauddin Zakariya University (BZU) 2023:
This university was ranked at position 1201-1400 by the World QS ranking and also maintains a decent ranking in Asia.
| | |
| --- | --- |
| Key Aspects | Details |
| Undergraduate programs (BS) | 60% acceptance rate |
| Postgraduate programs (MPhil/MS) | 50% acceptance rate |
| Scholarships available | Need-based scholarships are available |
| Social programs and initiatives available? | Yes |
Devotion to Key Founding Aspects:
It was founded to promote higher education and research in southern Punjab, especially in the Multan region.
From the outset, BZU placed equal emphasis on teaching and research to produce high-quality graduates and research output.
BZU places a strong emphasis on research and innovation. The founding aspects include a commitment to advancing knowledge and addressing societal challenges through cutting-edge research initiatives in various disciplines.
Recognizing the pivotal role of educators, BZU focuses on assembling a faculty of experts. The university values the role of teachers in shaping the intellectual growth of students and providing mentorship.
The university is founded on a student-centric approach, prioritizing the holistic development of students. BZU aims to provide support services, counseling, and extracurricular activities that enhance the overall student experience.
Admission Opening and Requirements:
The University admits students twice a year in both Fall and Spring semesters, so that applicant intake is increased.
The major admission criteria for BZU requires the following; 
| | |
| --- | --- |
| Requirements | Criteria |
| FSc | Minimum required is 50% |
| Entry test  | For MS program only |
| Interview | If applicable |
What is the Admission Process for BZU?
Admissions are merit-based, requiring academics, entry test scores, and meeting eligibility criteria. Applications are online/offline.
Is There Any Quota for Students in BZU?
The university has a quota for sports applicants, students of rural areas like FATA and disabled persons can also get a chance to apply on a dedicated 3% quota.
How is the Acceptance Rate of BZU Calculated?
The acceptance rate is typically calculated by the number of students admitted to the university by the total number of students. The specific calculation method may vary and details can be obtained from the university's website.