01 Jul 2014
Compulsory English-II Code 1424 – AIOU 2nd Solve Assignment Spring 2014
It is a sequel second Part of Compulsory English (Part 2) Solution of Assignment Spring 2014. In this post you are going to get Assignment No. 2 solved (Complete) absolutely Free. Other details are given below.
Course Name : Compulsory English (Part 2)
Course Code : 1424
For Bachelors / Graduation Level Students of BS / BA / B.Ed and B.Com programs
It is for Spring 2014 semester
Type : Solved Assignment of AIOU – Allama Iqbal Open University 
Important Note : All Required Pages which are mentioned with some questions are attached at the end of assignment. These page numbers are not from your text book of code 1424 but from key-book of seher. It is complete so if you face any problem to find the answer of any single question, ask me in comments below.
Recommended : If You don't read First Assignment Solution of 1424 – Spring 2014 , go and Read it first
Page No. 1 – Assig. No 2 Solution Start from here
Page No. 2
Page No. 3
Answer of Question No. 1 – See Page No. 172
Answer of Question 4 – See Page Number 212
Answer of Question Number 5 – Please see Page no. 177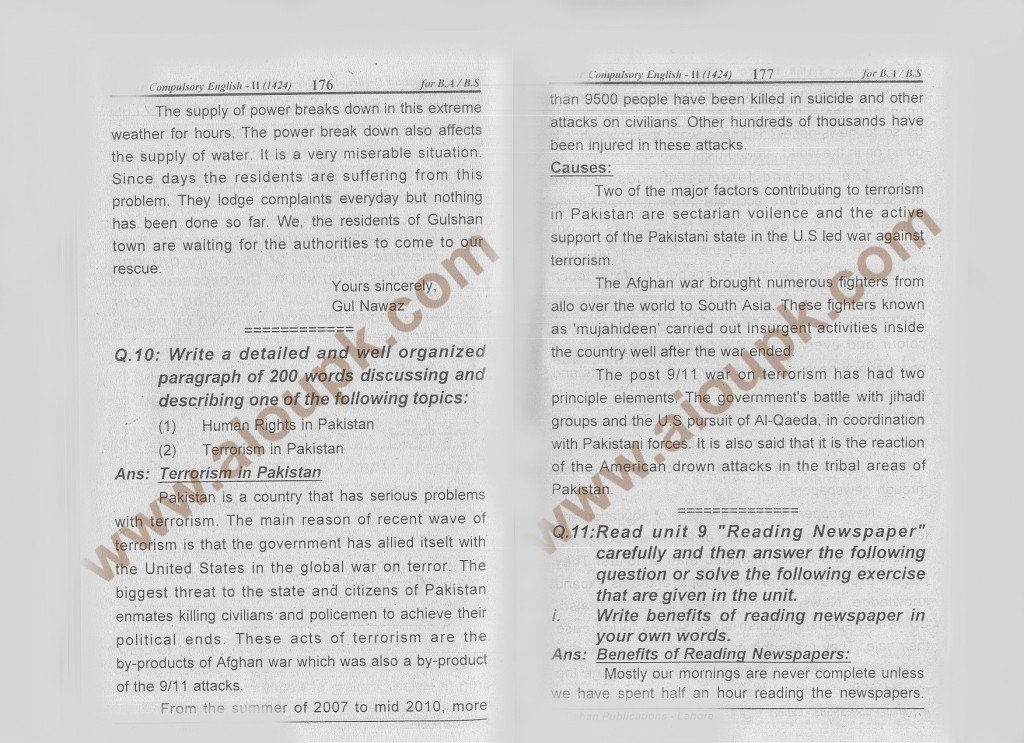 Answer of Question Number 5 , continue see page 178 
Answer of Question No. 8 (See Page No 212 )
Explanation of Question no. 2 English-II (Second Assignment) :
As you see above, there is no poem with name "Autumn" so how you solve this question. The simple answer is you try to contact your tutor and tell him / her about this situation. They will change the question for you and then you can solve it or leave it by saying , there is not any poem in chapter 9. (if you search for this poem on the net, you got tons of results with same title.)
Explanation of Question No. 6 :
for Question 6, you need a news paper and write some news from that which are required like Good news, Bad news, weather news etc which are mentioned as above. Visit The News Site now. It is not necessary to attache the newspaper, you can also write it from any English newspaper. Still have any confusion ? tell me, I give helped you.
I complete my promise by sharing this assignment before the last date of submission.  I hope it will help you a lot. I will suggest you to add some extra words with each question where needed to gain more marks. If you still have any problem related to this subject, ask me in comments below, I will answer every queries. or if you like our efforts, don't forget to give a feedback . Share this post with your friends and on other Groups on Facebook which are related to AIOU.
If you want to buy this book, contact, we will also provide you or if you supposed you are not be able to buy it we will give you for Free (only for really eligible students). Keep Calm and Visiting us for more and more helping educational material at no costs.
Comments