06 Nov 2023
Government College University (GCU) Lahore Acceptance Rate, Ranking (2023)
This public-sector university has an overall acceptance rate of 25%. This low acceptance rate indicates a tough admission procedure through which applicants had to pass to secure admission.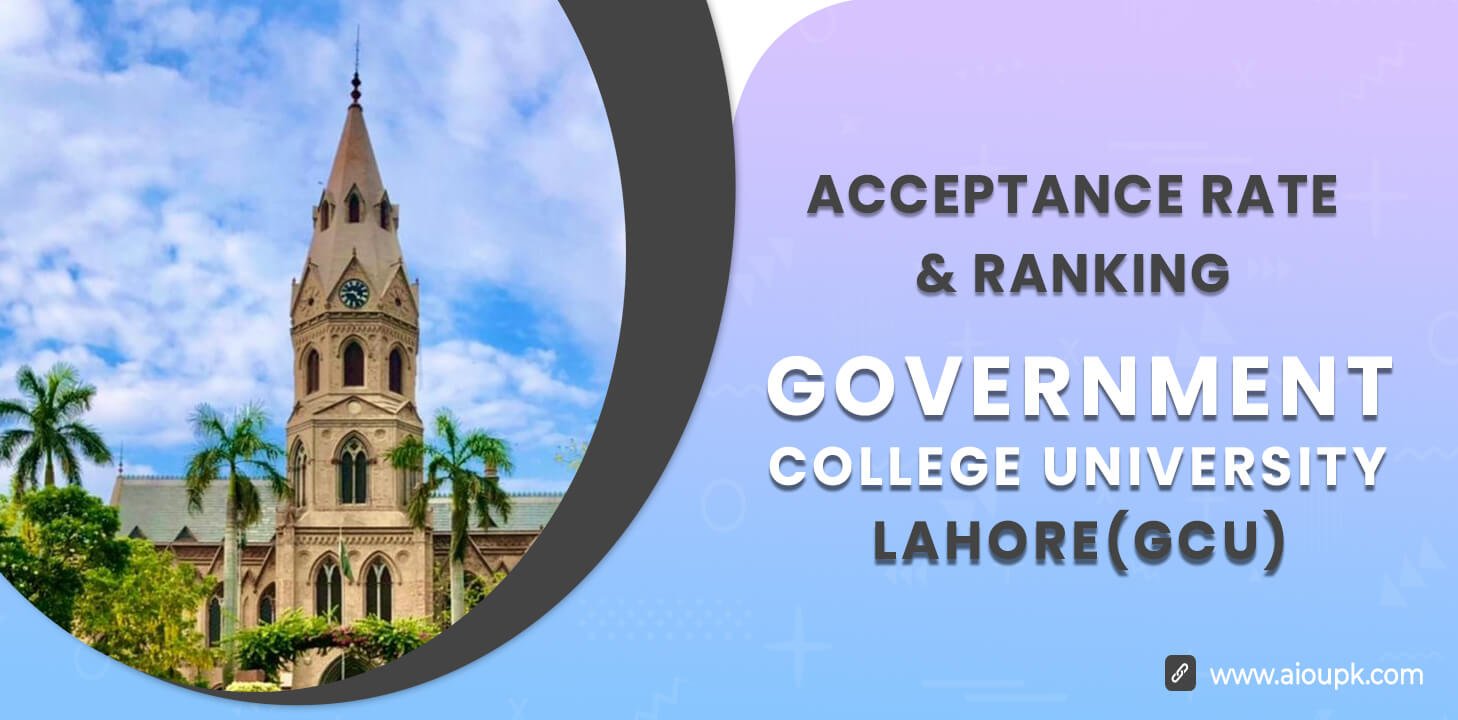 The foundation of this university was laid as a college in 1864 in joint India Pakistan sun-continent. The college gained university status in 2002 when the university started educating students in specific faculties including the faculty of chemistry and life sciences, physical sciences, social sciences and arts, language, and Islamic studies. The university has a prestigious faculty offering degrees in 28 BS and MS programs and 19 PhD degrees.
Ranking of GCU Lahore 2023:
Times Higher Education indicates the ranking of GCU Lahore in between positions 1201-1500. The university has a ranking of between 551-600 among the top Asian universities.
| | |
| --- | --- |
| Key Aspects | Details |
| Undergraduate programs (BS) | 15% acceptance rate |
| Postgraduate programs (MPhil/MS) | 25% acceptance rate |
| Scholarships available | Merit and need-based scholarships  |
| Social programs and initiatives available? | Yes |
Devotion to Key Founding Aspects:
GCU Lahore was established in 1864 and has a historical legacy rooted in the colonial era. The institution played a significant role in shaping the intellectual and academic landscape of the Indian subcontinent.

A cornerstone founding aspect is the commitment to academic excellence. GCU Lahore has a long-standing tradition of providing high-quality education across various disciplines, stimulating critical thinking, and producing well-rounded individuals.

The key founding aspects include a focus on pioneering faculty. GCU Lahore has a tradition of recruiting and retaining distinguished faculty members who contribute significantly to academic research, teaching, and the overall intellectual environment.

Founding principles include a strong emphasis on research and innovation. GCU Lahore encourages faculty and students to engage in meaningful research that contributes to knowledge advancement and addresses societal challenges.

GCU Lahore is founded on a student-centric approach. The institution prioritizes the holistic development of students, providing not only academic but also extracurricular and support services to nurture well-rounded individuals.
Admission Opening and Requirements:
This university opens admission twice a year in both spring and Fall semesters which indicates more student intake every year.
| | |
| --- | --- |
| Requirements | Criteria |
| FSc | Minimum required is 50% |
| GCUMAT/GMAT | Passing marks and further selection based on department-specific criteria. |
| Interview | If applicable |
For further details, kindly visit the university's official website.
Is the Hostel Facility Provided by GCU Lahore Administration?
The university provides a hostel facility for students enrolled in the university. The allotments are purely made on a merit basis. 
Which Factors Influence the Selection of Applicants in GCU Lahore?
1) Academic Performance
This is the most important factor is the strength of academic record including high school grades and college grades.
2) Relevant Subject Strength
Good grades and high marks in subjects directly related to the program in which the applicant is interested to proceed degree.
3) Eligibility Criteria
Meeting minimum eligibility conditions like completed school certificates, prerequisite subjects, etc. is mandatory.
4) Program competition
The acceptance rate for some programs at GCU Lahore is lower than others. For example, the acceptance rate for the BS program in Computer Science is lower than the acceptance rate for the BS program in English Literature.
Is there an Application Processing Fee for Submitting an Admission Application to GCU Lahore?
Yes, there is usually an application processing fee for submitting admission forms. The fee details can be found in the admission announcements.
How Can I Check my Admission Status or Merit List?
Applicants can check their admission status and merit lists on the official GCU Lahore website. Merit lists are typically published on the admissions page.