22 Nov 2013
Public Relations Code 451 Level BA Guess Papers of AIOU 2014 – 2015
Course : Public Relations (Talluqat-e-Aama / تعلقات عامہ)
Code : 451
Level : Bachelors (BA)
Semester : Autumn 2013
Type : Guess Paper and Old paper
AIOU – Allama Iqbal Open University Guess Papers / Samples are available here!
Hi First See this Old paper of Autumn 2013 which is held in Final exams of AIOU in June 2014. After this paper, We share some guess topics at the end of this page.
Old Paper of 

Public Relations Code 451 Autumn 2013-14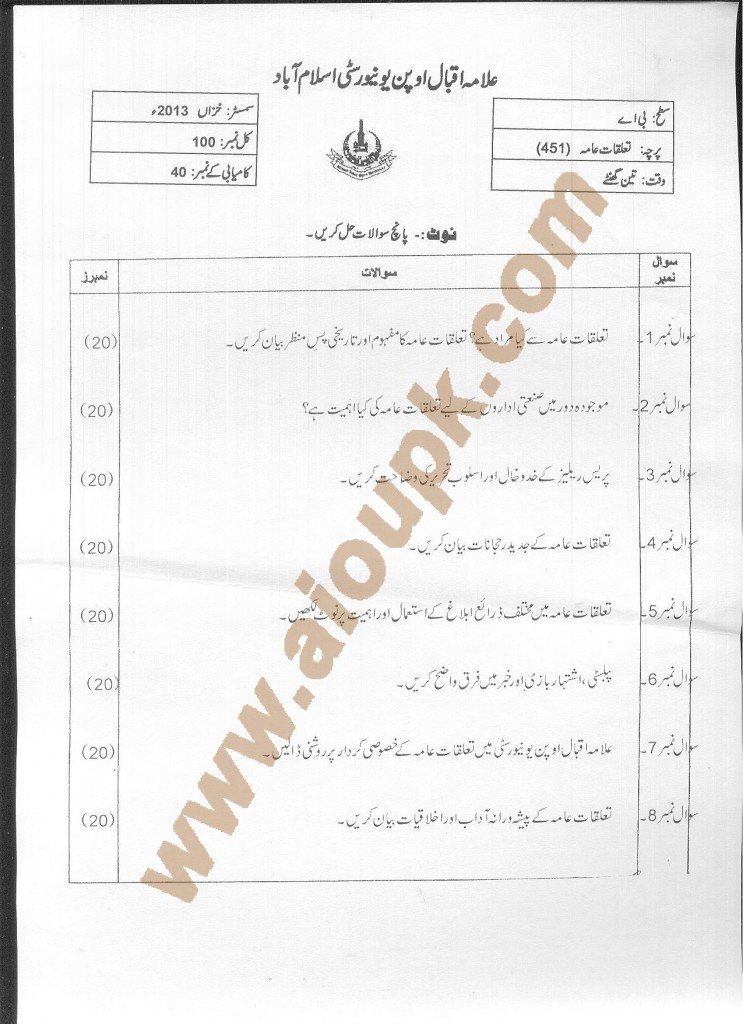 Now, see this guess paper of Code 451 and make your sure you completely prepare all these topics for the final exam because they are fetch from last 5 years previous papers of Open University.
All important and repeating question in last 5 years past papers are given above. You can get idea how you prepare your exam. These questions cover all your course content according to pattern of paper. Let us know if you need more help. We also have solved papers and key books. Also we update past papers with the time and I bet you never find latest stuff anywhere like we updated here. So please like or share it and leave your feedback in comments section below. Thank You.
Comments