08 Mar 2015
Punjab University (PU) Date Sheet 2015 for BA B.Sc
University of Punjab (PU) announced the final examinations 2015 date sheet for Bachelors BA and B.Sc. These written Exams will be held in April /May 2015. In the date sheet you can see the dates of you subjects and papers of A, B and C. Some papers are in Morning 9 Am to 12 Noon and other are in evening timings from 2:30 PM to 5:30. Paper of English "A" is of 3 Hours and 30 minutes while Ethics / Islamic studies exam duration is only 2 hours. Pakistan Studies Exam duration will be only 1 and a half hour. Read your date sheet carefully, It is given below:
Date Sheet Of BA/BS Punjab University 2015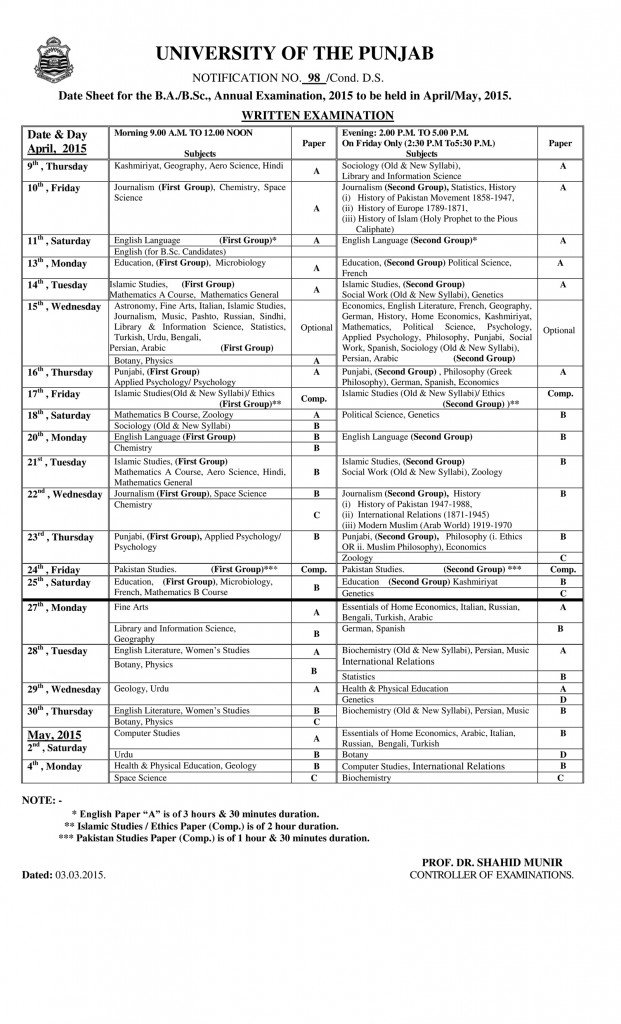 Share this date sheet with your friends to let them their exams are near. Prepare yourself from now, ask any question regarding this post below. Visit PU official website for more details. Contact your nearest regional office of university incase of any issue. The controller of examination is Professor. Dr. Shahid Munir this year. Good Luck to you for your bright future.