01 Nov 2023
Riphah International University Acceptance Rate, Ranking 2023
This prestigious university has an overall acceptance rate of 45%. This below-average acceptance rate of the university makes it a decently competitive university among private institutions.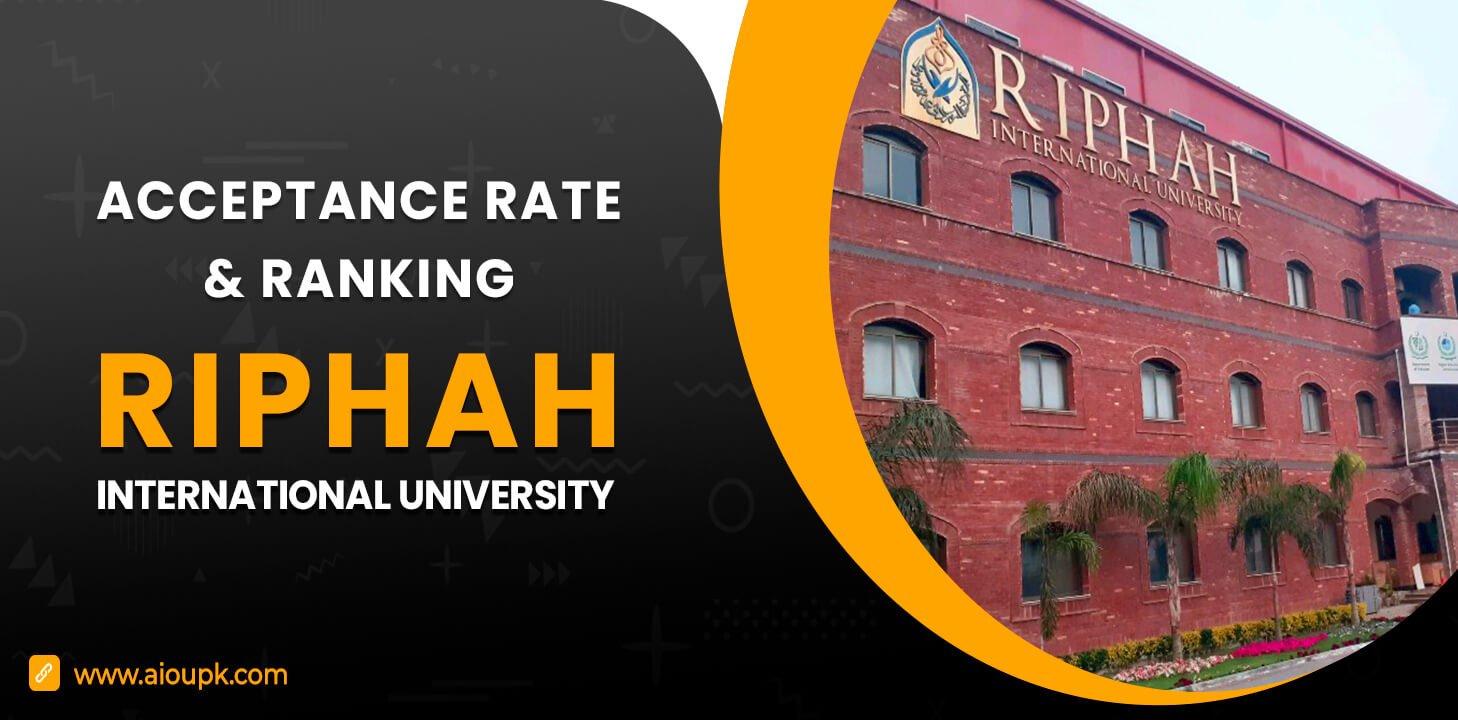 About Riphah International University:
The foundation of this university was laid in 1995 as a non-profit private university distributing knowledge to national and international people. The main campus of this university is situated in Islamabad. The sub-campuses are 5 in number and are located in Twin Cities (Islamabad and Rawalpindi) Lahore and Faisalabad. This university holds a qualified faculty and a large number of students.
Ranking of Riphah International University 2023:
This university was ranked in the top 200 universities of Asia by the Times Higher Education and at position 1001 among the world's top private universities.
| | |
| --- | --- |
| Key Aspects | Details |
| Undergraduate programs (BS) | 45% acceptance rate |
| Postgraduate programs (MPhil/MS) | 30%% acceptance rate |
| Scholarships available | Various categories of scholarships are available |
Devotion to its Key Founding Aspects:
Riphah International University is founded on the principles of Islamic teachings, aiming to provide education that aligns with Islamic values and ethics. The integration of Islamic essence permeates the academic, research, and operational aspects of the university.

The university promotes a culture of research and innovation. It encourages faculty and students to engage in meaningful research endeavors that contribute to advancements in various fields, including medicine, engineering, and social sciences.

The university is committed to providing inclusive education and welcoming students from diverse backgrounds. Riphah values diversity and believes in creating an inclusive learning environment where individuals from various cultural and ethnic backgrounds can thrive.

 Riphah International University instills a sense of professionalism and ethical conduct in its students. Programs are designed to prepare graduates who not only excel in their respective fields but also uphold the highest standards of professional and ethical behavior.
Admission Opening And Requirements:
The university opens admissions twice a year, one in the Fall intake (From May to September) and the other in the Spring intake (From October to February).
The specific admission criteria for this university;
| | |
| --- | --- |
| Requirements | Criteria |
| FSc | Minimum required is 50% |
| Entry test  | Department specific criteria |
| Interview | Department specific criteria |
Can NTS be Used to Apply For Admission?
The NTS test is not mandatory for admission to any degree program. The university entrance test is also not required in some selected fields of study.
Does Riphah International University have International Collaborations?
Yes, Riphah University actively engages in international collaborations with renowned universities and institutions. These collaborations often include student exchange programs, joint research initiatives, and faculty collaborations.
What is the Hostel Facility like at Riphah?
There is a separate accommodation facility for students of both genders. The male hostel is situated away from campus while the female hostel is located within campus.
Does the University Have a Transport Facility?
The university provides its own transport facility on designated routes at specific times according to the schedule.
What programs does Riphah International University offer?
Riphah University offers a wide array of undergraduate and postgraduate programs in various disciplines, including health sciences, engineering, business, social sciences, and humanities.