26 Jul 2014
AIOU Admissions are Open in Autumn 2014 – Allama Iqbal Open University (Complete Details)
Admissions in Allama iqbal Open University – AIOU are open now (from 1st August, 2014) . Currently you can apply for all programmes offered by university, Intermediate, Matric, PTC / CT, Bachelors BA / B.Sc / BSCS and diploma level courses.
New update :

  Allama Iqbal Open University again extends admission date till 15th October, 2014 with late fee
Last Date for submit your admission forms is 5th September, 2014 
News Update :  

Last date of Admission is Now Extended to

 

19-09-2014

without late Fees.
After this last date you can apply with late fees till 15 / 9 / 2014  (Now extended to 19 September, 2014) and after this date still you have last chance with double late fee, last date with double late fee is 25 /9 /04. After this, date will not be further extended.
Last date for Apply in AIOU – Autumn 2014 :
Fees is varying course to course, details are given below :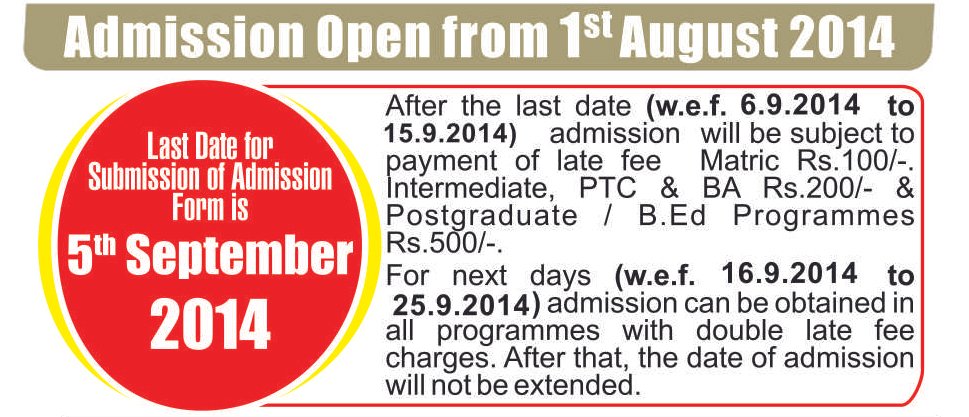 Schedule for Merit Based Programs (M.Sc/M.Phil, PHD, MBA …) :
Above details is Just for Matric level to Bachelors programs. If you are looking for Admission in Masters MS / M.Sc / PHD or M.Phil and in MBA, MPA or LLM Programs. So their fees prices are different for Autumn 2014 which are shown below. read all information carefully. These are merit Based courses and you should need to sit in entry test (NTS , GAT). details are also given in below image.
Admissions for Overseas Students in Autumn 2014 Semester :
 If you are not from Pakistan and Overseas students (Pakistanis in Middle East) then details for admissions in Autumn 2014 are given for you. University offer you Elementary course. HSSC (Intermediate) and Bachelors (BA) programs. Master level education is not for overseas students in AIOU. Contact details and other related information is available in the below image.
Prices of Prospectuses of all Courses :
Prices of Prospectuses of Allama Iqbal Open University are give below with brief details. Admission forms are attached with each prospectus. You can buy them from main University campus or from selected banks and from regional offices of AIOU.

How to Apply in Open University (Complete Guide & Procedure) :
Eligibility and other detail of all programmes are given in the relevant prospectus.. There is a complete procedure that how to apply in the University and which banks are supported. Note that, bank drafts are not accepted. Read instruction below:
Instructions for Continuing Students for this semester :
If You are continue student then wait for arrival of your admission form and in case you can't able to receive it, don't worry about it, Just go to this link and download a copy of your challan form. You need to enter a roll number, then print out it and use it for submitting your fees. No excuse will be accepted by University, you should submit your dues before last date.
 Its all about information of admissions for this semester Autumn 2014. If you want to read official release details about this admission opening and want to see the addresses of regional offices. Or you are confuse why take admission in this University. Is it recognized by HEC and PEC. What is the value of its degrees. You Just need to download below pages.
Need Help or Have any Question ?
If you need any type of help, or you have any question in mind regarding this post, You are more than welcome to ask us in comments below. we will answer you and try to resolve your issues and problem. Good luck for your future. Make your decisions now and get cheap and easy way (distance learning) education all over the country.
Please share this post as much as possible to all students so that they will access this all information and apply for it in the time before its too late.
You may be Interested in following Posts :
Comments