01 Nov 2023
Bahria University Acceptance Rate, Ranking (2023)
This prestigious university is located in Islamabad with an overall acceptance rate of 60%. This university holds a history of producing intelligent minds and technologically well-equipped students.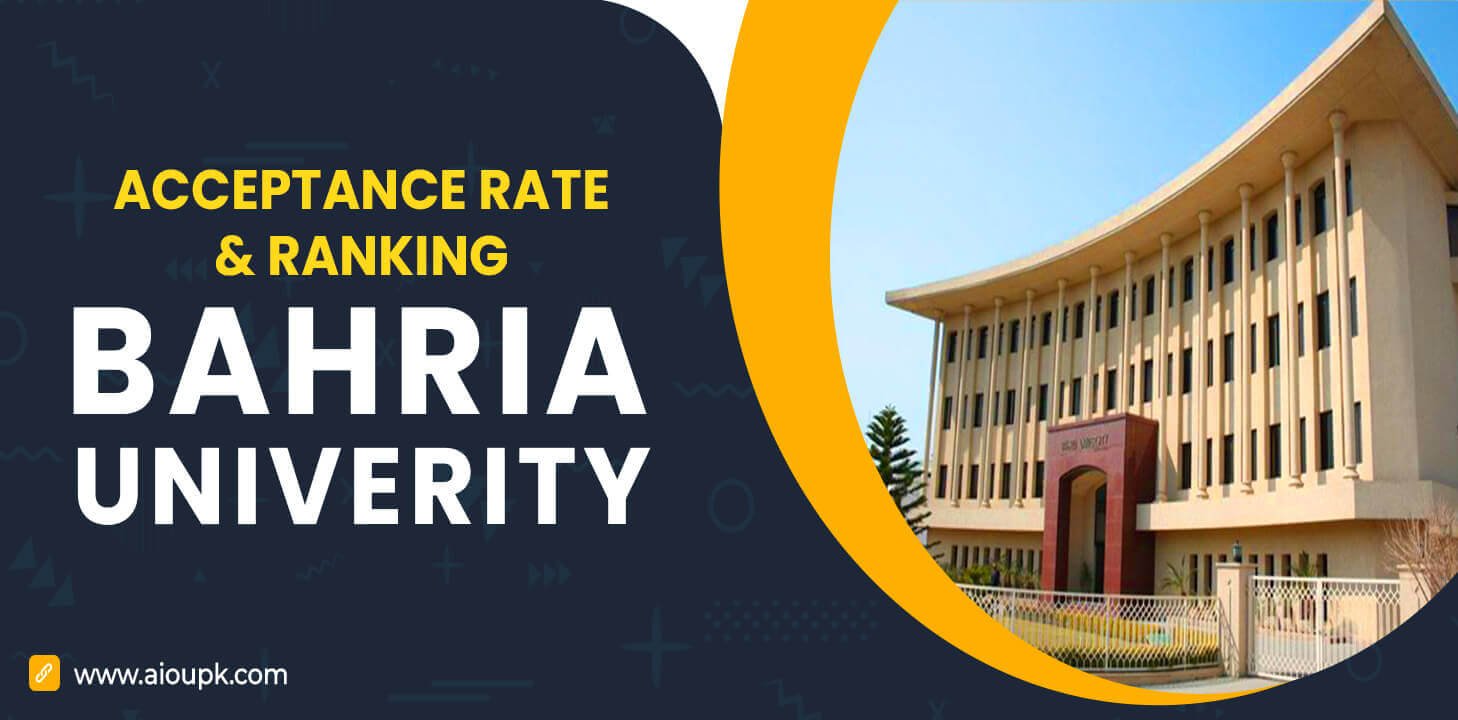 This university properly started offering education and technical research in the year 2000. This university is a multiple-campus university with campuses located in Lahore, Karachi, and Islamabad. Bahria University provides top-notch and latest technological knowledge in the fields of Computer science, Management Sciences, Engineering, and Environmental sciences.
Ranking of Bahria University:
This university is ranked between position 801-1000 according to Times Higher Education when compared with universities all across the globe. This university holds a ranking of 14 among Pakistani universities.
| | |
| --- | --- |
| Key Aspects | Details |
| Undergraduate programs (BS) | 55% acceptance rate |
| Postgraduate programs (MPhil/MS) | 50-70% acceptance rate |
| Scholarships available | Merit scholarships are available |
Bahria University Lahore Acceptance Rate:
The acceptance rate for Bahria University Lahore is estimated to be around 60%. This means that for every 100 students who apply to Bahria University Lahore, approximately 60 are accepted.
Devotion to Key Founding Aspects:
The university was set up to primarily provide technical education and research tailored to the needs of the Pakistan Navy and other armed forces.

 

Collaborations with industries are encouraged at Bahria University to promote market-relevant technical education and professional training.

There is a strong emphasis on promoting research culture and innovation among faculty members and students.

 

As a respected institution, Bahria strives for academic excellence and maintains high educational standards.
Admission Opening And Requirements:
This university encourages applicants to apply two times a year both in spring intake which opens in November/ December and in fall intake which opens in June/July. Unfortunately for Engineering programs, applicants are invited for admission once a year in the fall semester.
The specific admission criteria for this university are;
| | |
| --- | --- |
| Requirements | Criteria |
| FSc  | Minimum required is 50% |
| Bahria University entry test | For BS and MS programs |
| Interview | If applicable  |
| Statement of purpose | If applicable for MS programs only |
Is Bahria a Good university?
Bahria University is considered practically and technically oriented, especially in the fields in which the university provides excellent knowledge and a practical outlook to the students.
What Are The Major Factors Taken into Consideration For Selection at Bahria University?
1) Academic Record
Performance in matric, intermediate, and bachelor's degrees if applicable. Strong grades are required in relevant subjects.
2) Entrance Test Scores 
Good performance in admission tests like BUAT, NTS GRE, etc shows aptitude.
3) Relevant Subject Background
Meeting prerequisite subjects and having an academic background suited to the intended program is preferred.
4) Research Potential 
For graduate programs, prior research experience and potential for advanced study are considered.
Is Bahria University a Good Option to Study BS CS?
Since this university is linked with industrial employers along with the faculty holding expertise in this field, this favors the student of the CS department to gain more knowledge and become technically expert with the additional benefit of securing a job after completion of the degree.
Does Bahria University Have On-campus Hostel Facilities?
Yes, separate hostel accommodation is available for male and female students on the campus in Islamabad.