06 Nov 2023
Islamia University of Bahawalpur Acceptance Rate, Ranking (2023)
This prestigious university has an overall acceptance rate of 80%. This means it accepts almost all admission applicants who are applying in any field.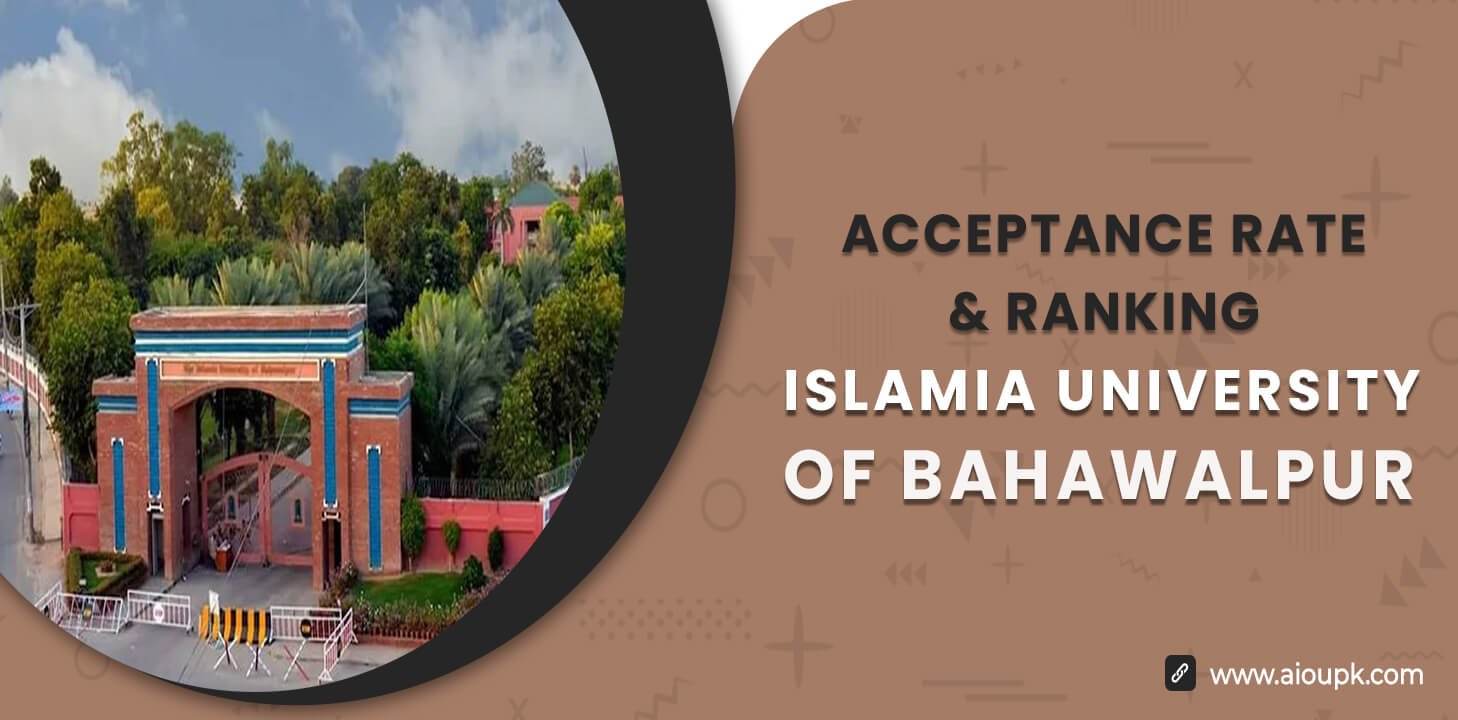 About Islamia University of Bahawalpur:
The foundation of this university was laid in 1925 it was later given the status of university in 1975 after the notification of Punjab Assembly. This university has many different faculties educating students in fields like Law, Pharmacy, Veterinary Sciences, Islamic Studies, Biological and Chemical Sciences, medicine, and languages. This university has 36,000 enrolled students which are under the supervision of 1800 faculty members.
Ranking of Islamia University of Bahawalpur:
This university is ranked at position 1001 according to the World QS ranking and at position 501-550 in Asia.
| | |
| --- | --- |
| Key Aspects | Details |
| Undergraduate programs (BS) | 60% acceptance rate |
| Postgraduate programs (MPhil/MS) | 50% acceptance rate |
| Scholarships available | Merit and need-based scholarships are available |
Devotion to Key Founding Aspects:
From its founding, Islamia University of Bahawalpur emphasized both Islamic studies as well as teaching liberal arts and sciences.

Islamia University of Bahawalpur was intended to provide higher education opportunities primarily to the Muslim population of southern Punjab.

The university motto highlights the quest for knowledge and Islamic spirituality.

Islamia University of Bahawalpur actively engages with the community, addressing societal challenges through research, outreach programs, and collaborative initiatives. The university aims to be a catalyst for positive change in the region.

Recognizing the importance of faculty expertise, Islamia University of Bahawalpur was founded to assemble a knowledgeable and experienced faculty. The university values the role of educators in shaping the intellectual growth of students.
Admission Opening and Requirements:
This university provides opportunities for applicants to submit applications twice a year in both the Fall and Spring semesters.
The specific admission criteria for this university are;
| | |
| --- | --- |
| Requirements | Criteria |
| FSc (Part-1) | Minimum required is 50% |
| MCT/NAT/IUB Entry test  | Department-specific criteria  |
| Interview | If applicable |
For further details, please visit the official university website.
Is Islamia University of Bahawalpur a Good University?
This university is ranked among the top public-sector universities in Pakistan. This university provides education in some of the unique and less frequently taught disciplines, especially in the Arts disciplines.
How is the Acceptance Rate of Islamia University of Bahawalpur Calculated?
The acceptance rate is obtained by dividing the number of admitted students by the total number of students enrolled in the university. The specific calculation method may vary and details can be obtained from the university's website.
Does Islamia University of Bahawalpur Provide a Hostel Facility?
This university provides separate hostels to students of both genders for a semester fee of 15,000 which covers all the residential expenses.
Does Islamia University of Bahawalpur Provide a Transport Facility to Students?
The university has its own public transport system which is routed on specific city routes. The pickup and departure times are fixed according to the route.
Is there Any Quota in Islamia University Bahawalpur?
There are specific quotas in each department for students of different categories according to the university's policies.