21 Feb 2014
Basics of ICT Code 1431 BA – AIOU Old Papers Spring 2013 – 2014
Subject Name : Basics of ICT

Course Code  : 1431
Level : Bachelors (BA / BS)
Semester : Spring 2013 / Autumn 2013 -14
Medium : English + Urdu
Type : AIOU – Allama Iqbal Open University Graduation Level Past Papers are available.
Also See Other Stuff and Papers of Code 1431 below :
Autumn 2013-14 Old Paper of ICT Code 1431 is given below which was released on June 2014:
Spring 2013 Semester Exam paper of 1431 Basics of ICT is given below :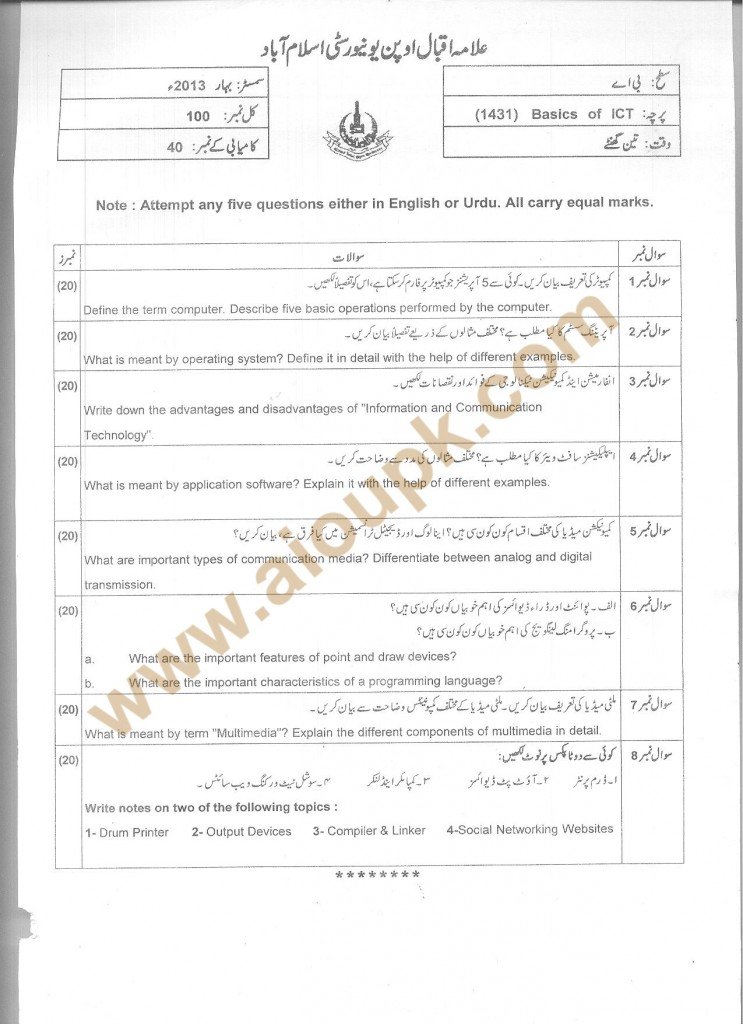 Basics of ICT is a subject related to Computer and IT. It is one of the popular subject among the students of Bachelors BA because students of AIOU usually considered tough subject because they have no or less knowledge about computers. So due to more requests of our students / users we updated many guess papers, solved papers, assignments and latest old papers of this subject. It is new subject started by University in 2012-2013 but we have keybooks and helping stuff of this subject more than any other. I am also expert Computer engineer so If you have any question or have trouble in understanding any topic of your book, You can ask me in comments or via contact form. Even I am volunteer to help you in Skype. So don't hesitate to ask any question and prepare all old paper to get good marks. Most of the questions are repeat in every paper. This subject is for both Urdu and English medium students so there is no issue if you write the paper in any language. All the very Best for your exams. remember me in your payers.
Comments