17 Aug 2014
Biology Model Papers for Class 9th Federal Board FBISE 2014
This is one of the compulsory subject for those students who want to do engineering or medical in the future. It is one the difficult subject somehow although it has just theory and labeling diagrams. But the new students who jump from class 8th to 9th, they feel this subject is quite difficult then general science. Some students said it is difficult to learn because of complicated medical terms and words. It is not easy to pronounce or spell for some newbies but on the same time many students take it as their favorite subject and learn it with ease. So now let's see this sample paper below :
Subject Name : Biology (Also called 'BIO')
For Class : 9th (SSC Part 1) School certification
Level : Matriculation / Pre- Medical / for Science Students
Year of release 2013 (Best for Exam preparation of 2014 – 2015)
Board : Federal Board of Education FBISE
Languages : Both – English and Urdu
Type : This is Old Papers / Sample Guess Examination question paper
Objective Type MCQ's Paper of Biology for class 9th
It is Section – A of this paper with 12 Marks. It is for English medium students out there. Also Note that it is from revised syllabus of Biology book. Most time allowed is 20 Minutes.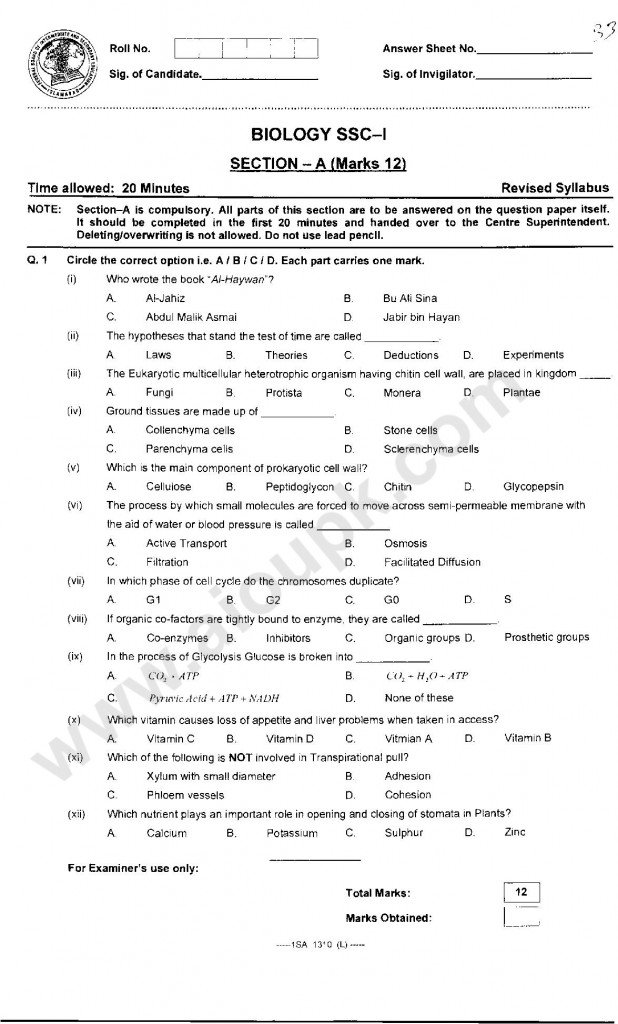 Same above paper translated for Urdu Medium Students here.
Subjective Type Paper of Biology for SSC / 9th Class FBISE
This is second Section Called Part B. In this part most of the questions required well description. First portion is for short Questions and answers and the 2nd portion for long once. Diagrams and their labeling are found approximately in all exams of federal board, So you should prepare them well. Practice by drawing and labeling diagrams of important topics from your BIO book and remember all labels with correct spellings of medical terms.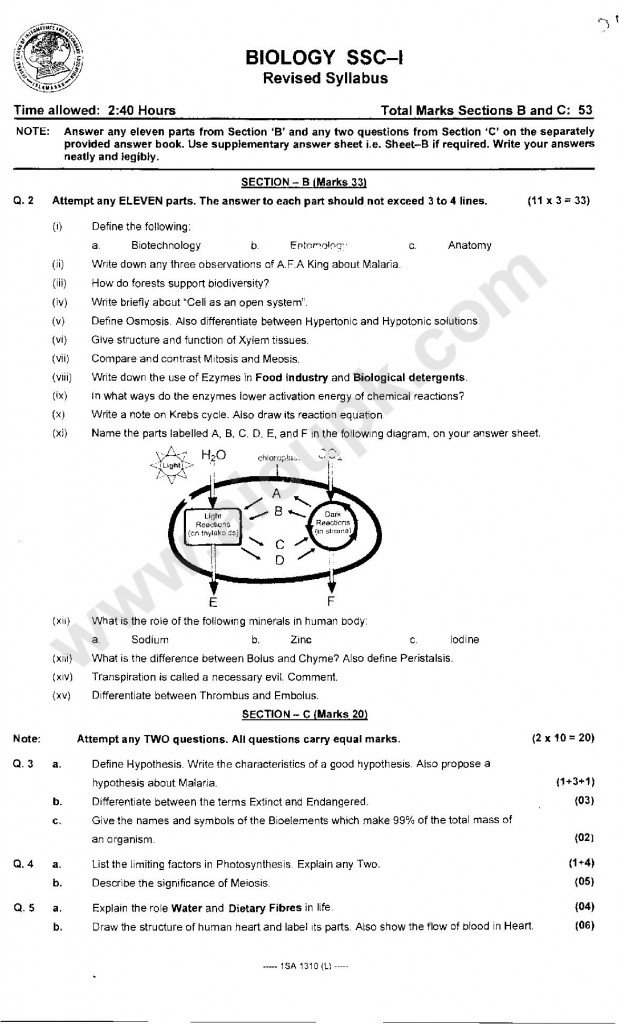 Subjective Type Paper for Urdu Medium Students SSC Part 1
Continue reading next part of this post by selecting Page 2 from below :
NOTE : Select the Next Page (No#2) from below of social icons to See Supplementary paper of this subject .
Comments