23 Oct 2014
Datesheet of BA / FA / Matric for Spring 2014 Final Exams – Allama Iqbal Open University
Allama Iqbal Open University (AIOU) finally announced the date sheet of annual exam Spring 2014 for Matriculation (9th – 10th), Intermediate (FA / F.Sc / Diploma in Education), Bachelors (BA / Associate degree – Commerce), Bachelors in Computer Science 4 years hons and BS in Micro Biology and chemistry/
Updated New Schedule of AIOU for Cancelled Papers :
Dear Students, Papers of Spring Semester 2014 scheduled to be held from 22nd December, 2014 to 7th January, 2015 throughout the country has been postponed due to law and order situation.
See Cancelled Papers New Schedule here :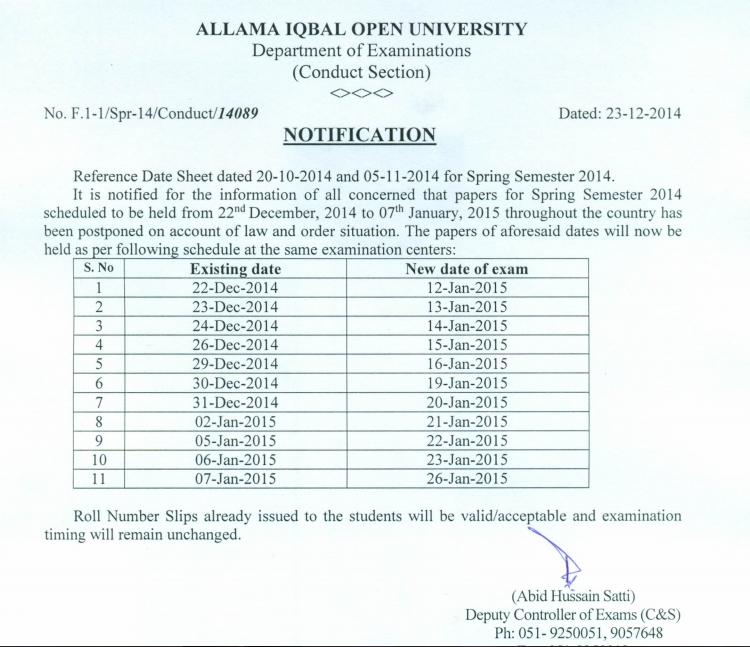 Read Official Notice:
http://aiou.edu.pk/addvertise/Cancellation%20of%20papers%20from%2022-Dec%20to%2007%20Jan%202015.pdf
Note : Roll Number Slips for New Exam Schedule are updated : 
Revised Roll Numbers Slips are Updated for Spring 2014 Semester
Check your New Slips here http://result.aiou.edu.pk/rollnoslips.asp

Select Last Option "Re-Schedule Roll No Slips" from Drop down in above link and check your New Dates. New Slips are already mailed to all students. In case you could not received yours till exam dates then Use Print out of Online version of Roll Numbers slips.
Overall exams start from 10 November, 2014 and end at 7th January, 2015. Timing of all exams is 2:00 Pm to 5:00 PM. Exam centers will be available in your roll number slips. Roll number slips are already send to mailing addresses of students and you all receive your slips soon at your home. In case, You can't receive your Roll number slip, please download online slips from here and use the print of online Roll number slip version. Matriculation slips are already updated and Bachelors and Inter slips will be updates with the time.
See below image for date-sheet. Find dates in front of your subject codes.
It is recommended to reach in your exam center 45 minutes before the exam start at the first paper. Must take your CNIC and Roll number slip, without it, you can sit for exam. In case you have not your CNIC card, You should take B-form (Birth certificate), Your attested passport size photo and your father's Id card copy. So that you allowed to enter in examination hall.
Best of luck from our side. We already uploaded past papers of many subjects and some guess papers. Don't forget to have a look on old papers too, they will definitely help you to understand the pattern of paper and on the day of exam you don't fees any thing surprising.
If you face any problem in the regards of your exams, please contact on the phone numbers given in the date sheet above. Still you have any question in mind, Please do not hesitate to ask, we will try to answer each comment below.
If you are looking for B.Ed datesheet ? Please see below Image for ATTC, CT, PTC and B.Ed final Exam dates for Spring 2014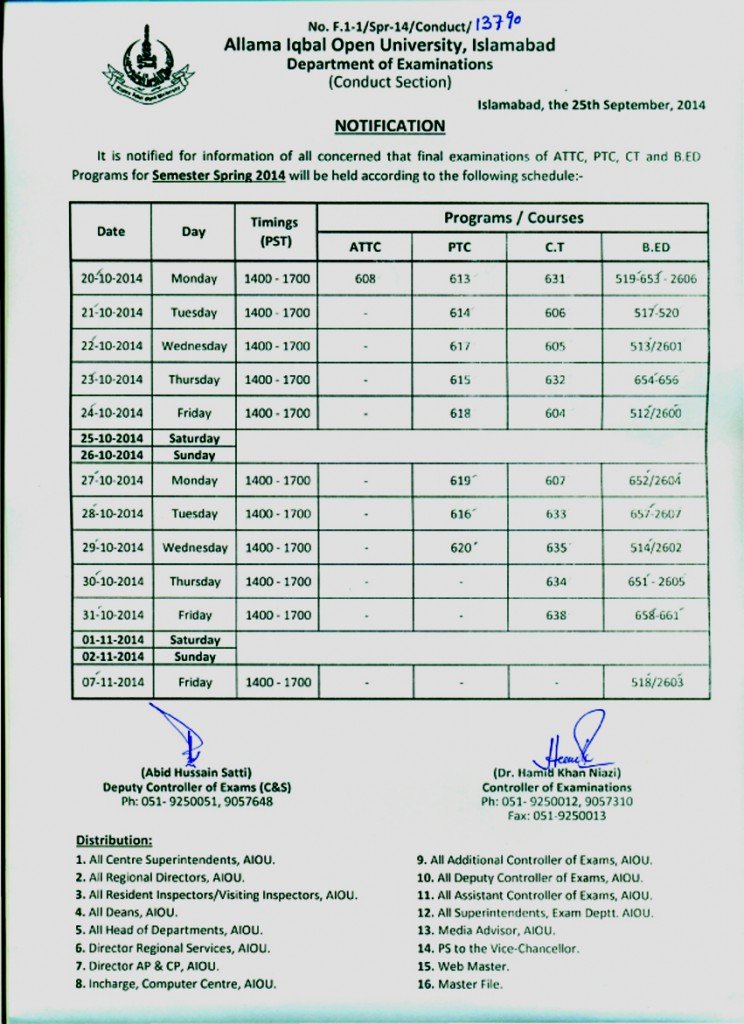 Comments