17 Aug 2014
FBISE 9th Class Old Papers of Arabic for 2014
Hi, All Federal board Previous papers are available on this blog. 9th class Papers and Sample / Model Papers are also shared on daily basis.
Subject Name : Arabic 
For Class : 9th (SSC) School certification
Level : Matriculation
Year of release 2013 (Best for Exam preparation of 2014 – 2015)
Board : Federal Board of Education FBISE
Language : Arabic, English and Urdu
These are real final examination papers, scanned for your help, You can use these to get idea of important topics and find the latest pattern of federal board.
First part is objective having only MCQ's and time required only 20 minutes, Marks of this section are 15.
Objective Paper MCQ's of Arabic 9th Class is here
Page No. 1
Page No. 2Part 2 / Subjective Type Questions start from here
Here is your own choice, that you want to translate Arabic verses into English or in Urdu, depend which medium you selected. Mostly in Pakistan students prefer this subject in Urdu, So it is easy to understand but some English Medium School prior to English. Translation to your own language is important and difficult part of this subject.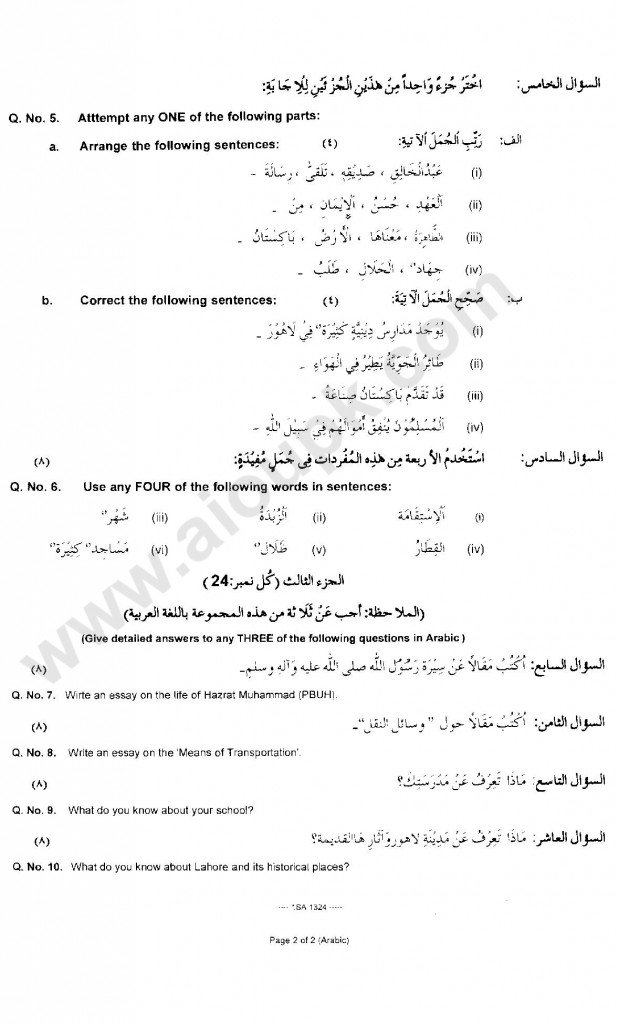 So this was a great post, I hope you will find it useful. We also already published other subject previous 5 years papers too. Go and find them using our free search bar. We also published some solution of exam guess papers with answers of MCQ's. Don't forget to share this post with others and leave your feedback in comments. We take every comment seriously and reply with the solution where possible. Thanks for coming here. See you soon again.
Comments