03 Nov 2023
IBA (Institute of Business Administration) Karachi Acceptance Rate, Ranking (2023)
Institute of Business Administration Karachi is a top-notch business institute with an acceptance rate of about 20%. This means that only a small percentage of students who apply to IBA University Karachi are accepted.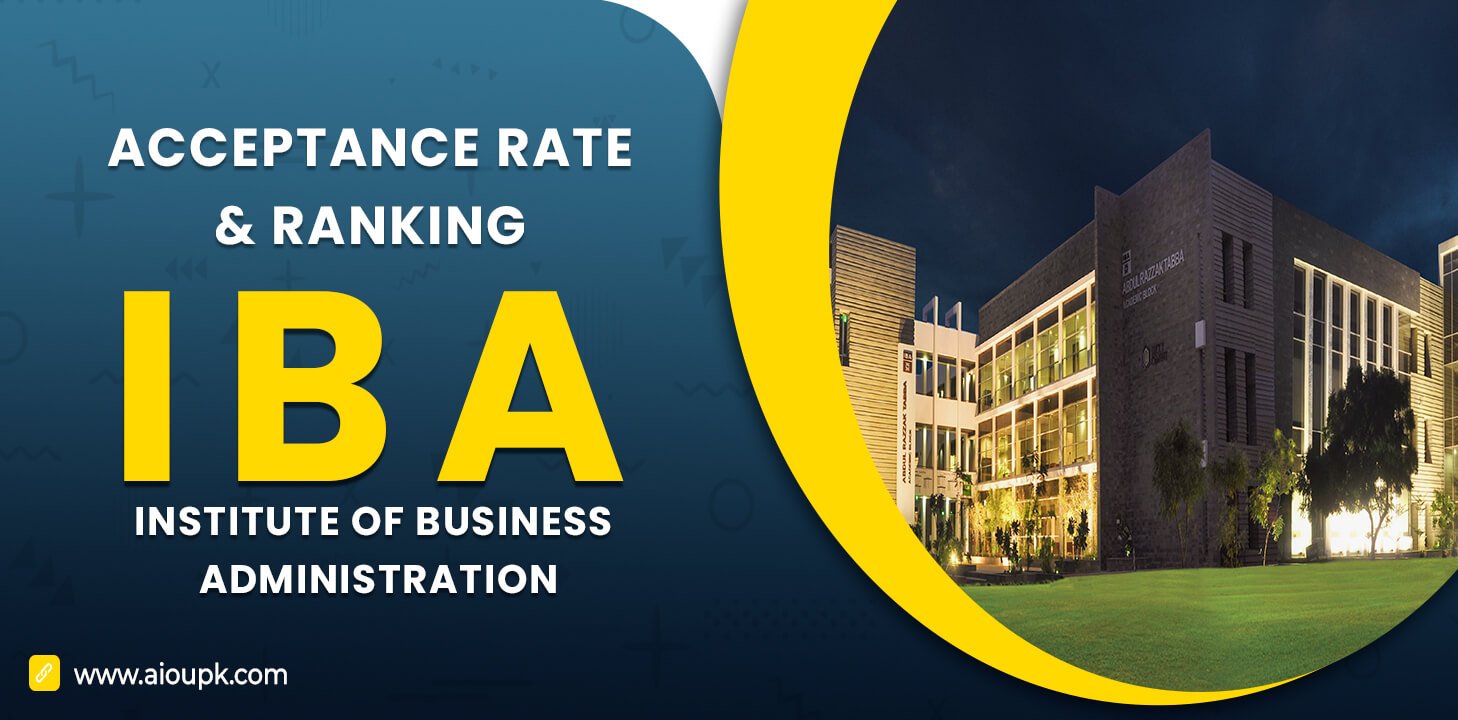 About IBA University Karachi:
The foundation of this university was laid back in 1966 to cope with the upcoming business and management challenges by equipping students with skills for business administration. This university has a large and devoted faculty with almost 5000 students enrolled in the institute.
Ranking of IBA University 2023:
This institute is ranked at position 501 according to World QS Ranking and in Pakistan, it is also ranked among the top business institutes of the country.
| | |
| --- | --- |
| Key Aspects | Details |
| Undergraduate programs (BS) | 10-15% acceptance rate |
| Postgraduate programs (MPhil/MS) | 20-30% acceptance rate |
| Scholarships available | Merit and need-based scholarships  |
| Social programs and initiatives available? | Yes |
Devotion to Key Founding Aspects:
To provide a teaching and learning environment that encourages critical thinking, ethical conduct, and effective decision-making.

Practical implementation of the concepts taught can provide benefits in business management, government, and civil society. 

IBA Karachi is committed to innovation in education and research. The institute offers several unique programs and initiatives, such as its Center for Entrepreneurial Development and its Center for Excellence in Gender Studies. IBA Karachi is also a leader in the use of technology in education.
Admission Opening and Requirements:
The admissions open once a year in October for undergraduate students and twice a year for spring and fall semesters for MS students.
The specific admission criteria for IBA University are;
| | |
| --- | --- |
| Requirements | Criteria |
| Matric | Minimum required is 65%  |
| FSc  | Minimum required is 60%  |
| Aptitude test/SAT/GMAT/GRE | Achieve passing marks (MInimum) |
| Interview | If applicable |
Is IBA Karachi a Good University?
This university is recognized by HEC as the best management sciences institute across Karachi. This university also promotes the practicality of an application to theoretical knowledge by providing hands-on training to the students.
What Are the Major Factors Taken into Consideration For Selection by IBA Karachi University?
1) Academic Excellence
Admission to this prestigious institute requires an excellent academic background with a handful of knowledge in the related field.
2) Personal Statement
Your statement is an opportunity to tell IBA Karachi about yourself and why you are interested in attending the university. A well-written personal statement that highlights your strengths and accomplishments can increase your chances of acceptance.
3) Interview
If an interview is required, it is important to be prepared. IBA Karachi interviewers will be looking for applicants who are articulate, intelligent, and passionate about their studies.
Where Are the Aptitude Tests And Interviews of IBA Universities Conducted?
The IBA conducts aptitude tests in twin cities Karachi, Hyderabad, Islamabad, and Lahore. However, interviews are only conducted in Karachi and outstation candidates can give their interview via a call.