01 Nov 2023
Hamdard University Acceptance Rate, Ranking (2023)
This prestigious university providing excellence in the field of life sciences has an overall acceptance rate of 15%. Despite being a private university, the low acceptance rate of this university is indicative of a neck-to-neck competition among the applicants.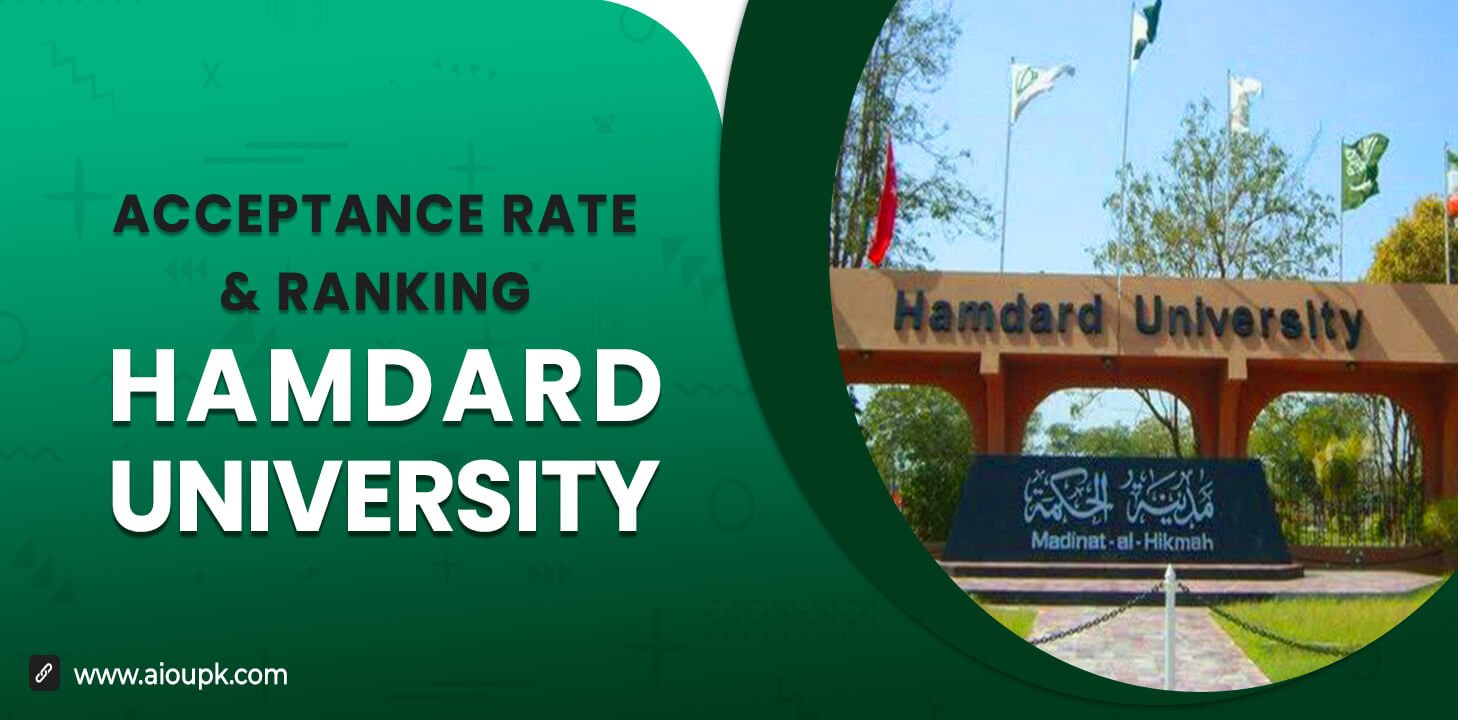 About Hamdard University:
The foundation of this university was laid in 1991 by a famous person Hakim Said, owner of Hamdard University. This university currently owns two campuses in Islamabad and Karachi. It is a private research university with a decent number of expert faculty members.
Ranking of Hamdard University 2023:
This university is ranked at position 1201 according to the World QS ranking. In Pakistan, this university holds the 60th position with a good research faculty.
| | |
| --- | --- |
| Key Aspects | Details |
| Undergraduate programs (BS) | 50-60% acceptance rate, Less for BBA and Pharm-D |
| Postgraduate programs (MPhil/MS) | 40-50% acceptance rate |
| Scholarships available | Merit-based and Need-based scholarships |
Devotion to Key Founding Aspects:
 Promoting research and education in Unani medicine remains a core founding principle. The university is dedicated to advancing Unani therapies and integrating them with modern science.

 The university aims to promote the integration of traditional Eastern medicinal systems and modern Western sciences. It focuses on synthesizing knowledge from both worlds.

 In line with its founder's vision, Hamdard aims to provide holistic education that develops all faculties of the human mind and spirit. Academics are combined with ethics and community service.
Admission Opening And Requirements:
The applicants can apply twice a year for admission to Hamdard University. The admissions open in May for Fall intake and in November for Spring intake.
The specific admission criteria for Hamdard University are;
| | |
| --- | --- |
| Requirements | Criteria |
| FSc | Minimum required is 50% |
| Aptitude test | Department specific criteria |
| Interview | If applicable |
What is The Process for Applying to Hamdard University?
You can apply by filling out the online application form on the university website. You need to submit supporting documents like academic transcripts, test scores, recommendation letters, etc. There are also admission tests and interviews.
Does Hamdard Provide Hostel Accommodation?
Yes, Hamdard University provides separate hostel facilities for male and female students. You can apply for a hostel when filling out the admission form.
What Facilities are Provided on Campus?
Facilities include libraries, science and computer labs, a cafeteria, a healthcare center, a sports complex, auditoriums, transport, etc. There is also a botanical garden and a mosque.