16 Jul 2014
Islamic History Optional-II Old Past Papers Federal board second Year 2014-2015
Subject Name : Islamic  Studies Optional 2
Level :   2nd Year – HSSC-II
Board : FBISE
Year : 2014
Type : Old / Guess paper
 The Paper of Islamic History is divided into two categories objective and other is subjective . In objective type there are twelve multiple questions in which you circle the question , each question have four options and you circle the correct questions .  The other part of paper that Federal Education Board divide is the subjective type in which it has two categorie . Short questions and long questions . In short answers there is also choice of attempting 10 questions out of twelve .  Also choice in long questions and answers , you have to attempt three questions out of five which given in the paper .
Moreover according to the new rules and regulations the board strictly warned you to avoid cutting and over writing . Especially in objective type your answer is considered wrong if you rewrite your selection . So be careful while attempting your Objective paper don't over write on it .
 Objective Paper of Islamiat Second year OPT Two

Subjective Paper of Islamic Study Opt 2 HSSC-II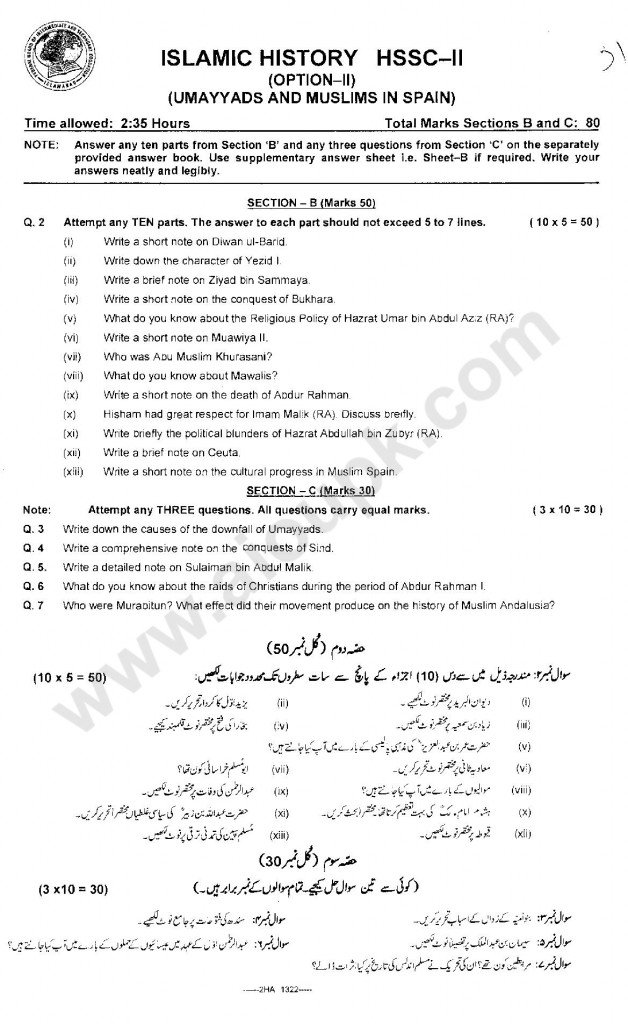 Read the paper this is according to the new patter of FBISE HSSC part 2 paper . New papers of board are follow this pattern .So this is the best way of your exam preparation . Other Islamiat related paper and full new pattern of 2014 , 2015 are available here , So keep visit to get A+ grade in your final exams .
Comments