03 Nov 2023
NUST University Acceptance Rate, Ranking (2023)
National University of Science and Technology is a well-reputed university in Islamabad with an overall acceptance rate of about 4-13%. This very low acceptance rate denotes the fact that only intelligent and devoted students can secure admission to this university.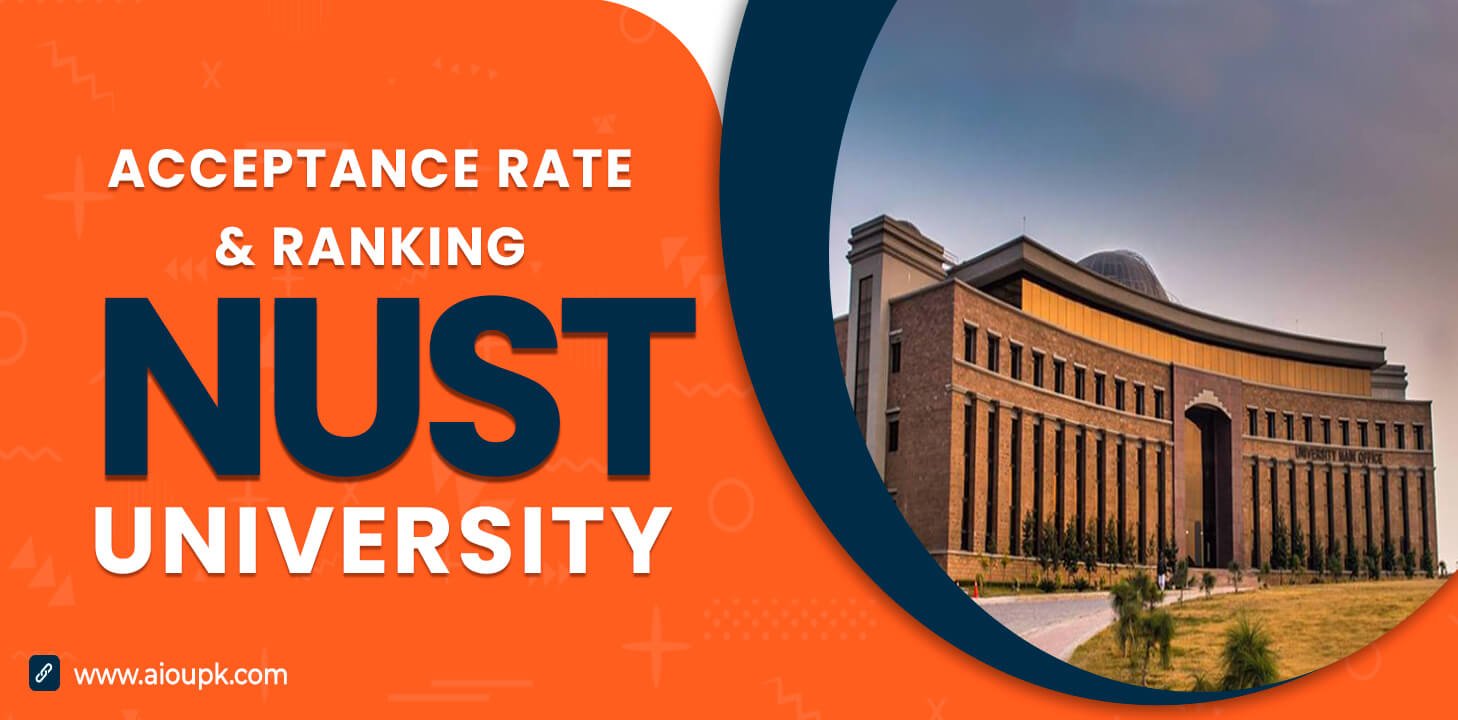 The foundation of this university was laid down in 1991 for achieving the benchmarks in research and academics. This university holds several 650 faculty members with expertise in their respective research areas. The number of students currently studying in NUST is about 6500.
Ranking of NUST University 2023:
According to the World QS ranking, NUST University resides at position 367 across the globe. This university is ranked in 1st position in Pakistan concerning its specific fields of engineering.
| | |
| --- | --- |
| Key Aspects | Details |
| Undergraduate programs (BS) | 5% acceptance rate |
| Postgraduate programs (MPhil/MS) | 25% acceptance rate |
| Scholarships available | Merit and need-based scholarships  |
| Social programs and initiatives available? | Yes |
Devotion to Key Founding Aspects:
NUST has a strong research culture, and its faculty members are actively involved in research projects.

 

NUST is a diverse and inclusive community that welcomes students from all backgrounds and walks of life. The university has several programs and initiatives that support students from underrepresented groups.

NUST is committed to promoting innovation and entrepreneurship among its students. The university has several programs and initiatives that support students who are interested in starting their businesses or developing new technologies. NUST also has a strong alumni network of entrepreneurs who are willing to mentor and invest in students' startups.

NUST students have many opportunities to gain hands-on experience in their fields through internships, research projects, and co-curricular activities.
Admission Opening and Requirements:
NUST University admits students only once a year. These admissions open in the Fall semester.
The admission criteria for NUST University are;
| | |
| --- | --- |
| Requirements | Criteria |
| Matric | Minimum required is 60% |
| FSc  | Minimum required is 60% |
| NUST entry test score | Department specific criteria |
Is NUST a Good University?
Taking into consideration the areas of expertise of this university, it is ranked among the top-notch universities in Pakistan. It is also recognized as a university with cultural heritage, and an intellectualistic approach to building and allowing research in the world's top and recent research topics and domains.
What Are The Major Factors Taken into Consideration For Selection by NUST University?
1) Academic Distinction
The unusually low acceptance rate of this university is indicative of the high academic superiority required to be enrolled in this institute.
2) Personal Statement
Your statement is an opportunity to tell NUST University about yourself and why you are interested in attending the university. A well-written personal statement that highlights your strengths and accomplishments can increase your chances of acceptance.
3) Letter of Recommendation
NUST University requires applicants to submit two letters of recommendation. Applicants should choose recommenders who can speak to their academic abilities, personal qualities, and potential for success at NUST.
How is the Acceptance Rate of NUST Calculated?
The acceptance rate is estimated by dividing the number of students currently admitted to the university by the total number of enrolled students in that particular year. The specific calculation method may vary and details can be obtained from the university's website.
What Are The Main Programs Offered at NUST?
NUST offers a wide range of undergraduate and graduate programs in various disciplines, including engineering, business, sciences, and humanities.