03 Jan 2023
Top 12 Private Medical Universities in Pakistan 2023 – Ranking List
In Pakistan, Medical Education is given so much importance and it is thus referred to as the mother of education. This is the reason that the number of private medical universities is increasing day by day. Due to the development of medical institutes, the increasing numbers of medical students are turning into great doctors who are working hard for a healthy and prosperous Pakistan.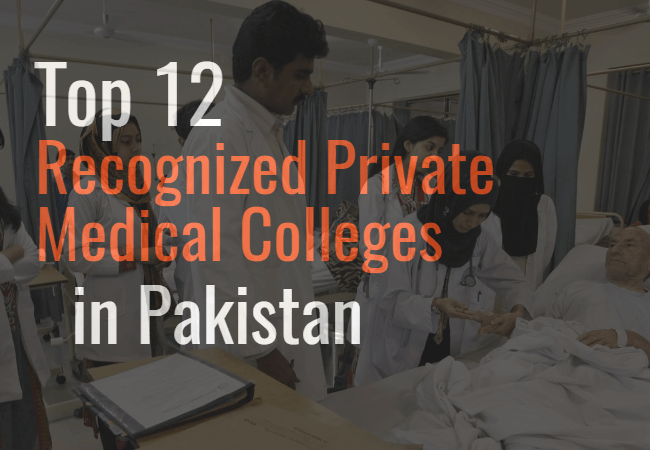 Medicine is one of the key professions on which the life and death of many sick people are based. The training of a doctor is very expensive, it is essential and requires special care and attention. There has been a major development of medical colleges and universities in Pakistan, both at the Government and private levels. So this is the duty of these institutes to ensure that their medical workforce is able to match the international standards.
Also Check: Top 10 Government Medical Universities of Pakistan 2023
Ranking List of Top 12 recognized private medical Universities / Colleges in Pakistan
So, here we are with the list of top private medical universities in Pakistan based on their academic record, teaching staff, attached hospitals, merit as well as the facilities that are provided to the students.
Agha Khan Medical University, Karachi

Ziauddin Medical University, Karachi

Isra University, Hyderabad

National University of Medical Sciences, Islamabad

Baqai Medical University, Karachi

Foundation University, Islamabad

Riphah International University, Rawalpindi

University of Lahore

University of Faisalabad

Superior College Lahore

Hamdard University, Karachi

Gandhara University, Peshawar
Must check: Top 10 Degrees of 2023 which has more scope in Pakistan
All these medical universities founded in different provinces of Pakistan offer various medical degree programs. The students who are wandering for the best private medical institutes must go through the above-mentioned list and can find it quite helpful. Being a medical student, it is obligatory for you to study hard and work for the betterment of society, so choose the best university and give your profession your best.