01 Nov 2023
University of Sargodha Acceptance Rate, Ranking (2023)
The University of Sargodha is the most prestigious university located in Sargodha city with an overall acceptance rate of 41%. This university admits students having a strong academic background to further polish them and prepare them as skilled professionals.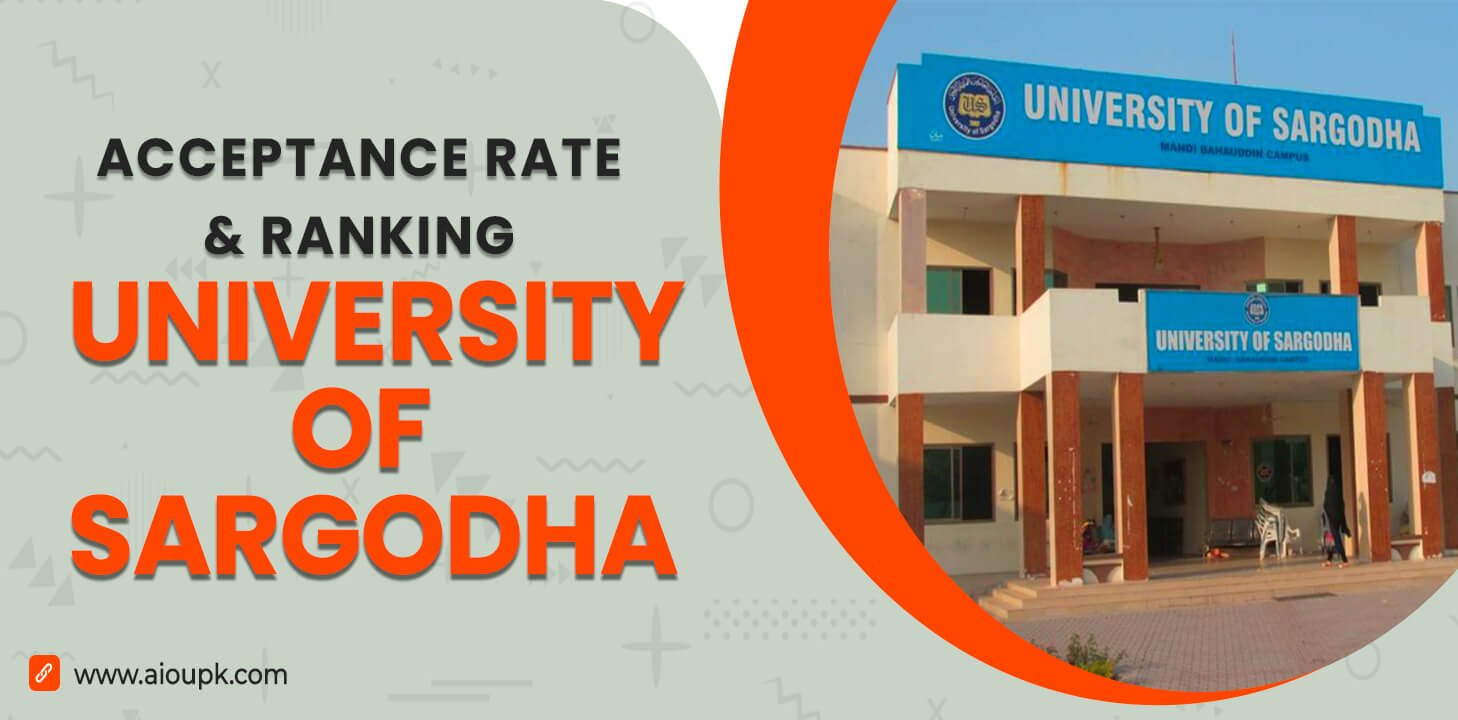 About Sargodha University:
This university started giving education to students in 1929 after its foundation was laid. Sargodha University is a public sector university providing affordable and quality education. This university has 800 faculty members with about 21,000 enrolled students making it one of the top universities in Sargodha city.
Ranking of Sargodha University 2023:
The Higher Education Commission (HEC) of Pakistan has ranked the University of Sargodha as the 12th best university in the general category as of 2021. The university ranks 51-75 among all universities in Pakistan as per the QS Asia University Rankings 2021. It is ranked in the 450 – 500 range in Asia as per QS Asian University Rankings 2022. 
| | |
| --- | --- |
| Key Aspects | Details |
| Undergraduate programs (BS) | 50-70% acceptance rate |
| Postgraduate programs (MPhil/MS) | 65-75% acceptance rate |
| Scholarships available | NGO-funded and need-based scholarships  |
Devotion to Key Founding Aspects:
The University of Sargodha is committed to providing its students with the highest possible quality education. The university has a rigorous academic curriculum and a team of highly qualified faculty members. University of Sargodha graduates are highly sought-after by employers around the world.

The UoS is a leading research university in Pakistan. The university has several research centers and institutes that are working on cutting-edge technologies in a variety of fields, including science, engineering, and social sciences.

The UoS is committed to innovation in education and research. The university is constantly developing new programs and initiatives to meet the changing needs of the world. UoS's research has made significant contributions to the advancement of knowledge and technology in Pakistan and around the world.
Admission Opening And Requirements:
The admissions are open once a year for Fall intake in August – October. 
The specific admission criteria for this university are;
| | |
| --- | --- |
| Requirements | Criteria |
| FSc  | Minimum required is 50%  |
| Entry test | For MS students only |
| Interview | If applicable for MS students only |
Does the University of Sargodha Offer Scholarships?
Yes, the University of Sargodha provides various scholarship and financial aid opportunities for eligible students. Details about scholarships can be obtained from the university's financial aid office.
Are There Hostel Facilities at University of Sargodha?
Yes, the University of Sargodha provides hostel accommodations for both male and female students.
What Programs Does the University of Sargodha Offer?
The university offers a wide range of undergraduate, graduate, and postgraduate programs across various disciplines, including arts, sciences, social sciences, business, and more.