25 Jul 2014
Physiotherapy Techniques Old /Model Papers 2 Year Federal Board 2014
Exam :-   Intermediate 
Subject is  :  Physiotherapy Techniques
Reference :  Federal Board 
Type  : Different Years (Also find the solution of Papers)
 Model Papers / 5 Years Old Paper
Description of Paper :
In this subject you learn all about the internal parts of body and the process that occurring in a body . This subjects is basically a practical training of students for their future professionally life. A similar to Operation Theatre  Techniques which also a practical impact.A student may learn some professionally know how about the Medical field. Surgical Laboratories also find these students who specialized in Physiotherapy Techniques . The people who  professionally know how about the Physiotherapy Techniques have also many jobs even in their initial graduation level . Different private companies of X-rays , E.C.G and Ultra-sonic are heavily paid to the student of Physiotherapy , so students have a bright future in this subject.
Paper Info for Students :-
The paper is slightly different from others because it have twenty Multiple Choices , no over writing is allowed. However, in theory paper you have allowed to cancel your wrong answer , but trying to neat and clean your paper as your level best. The sub have fourteen questions having a choice of attempting only ten . Same condition is following on Section C .You can see the following past papers including guess.
 Objective of Physiotherapy Techniques HSSC Part 2 FBISE 2013-2014
  Physiotherapy Techniques 5 Years Past Paper HSSC-II FBISE 2014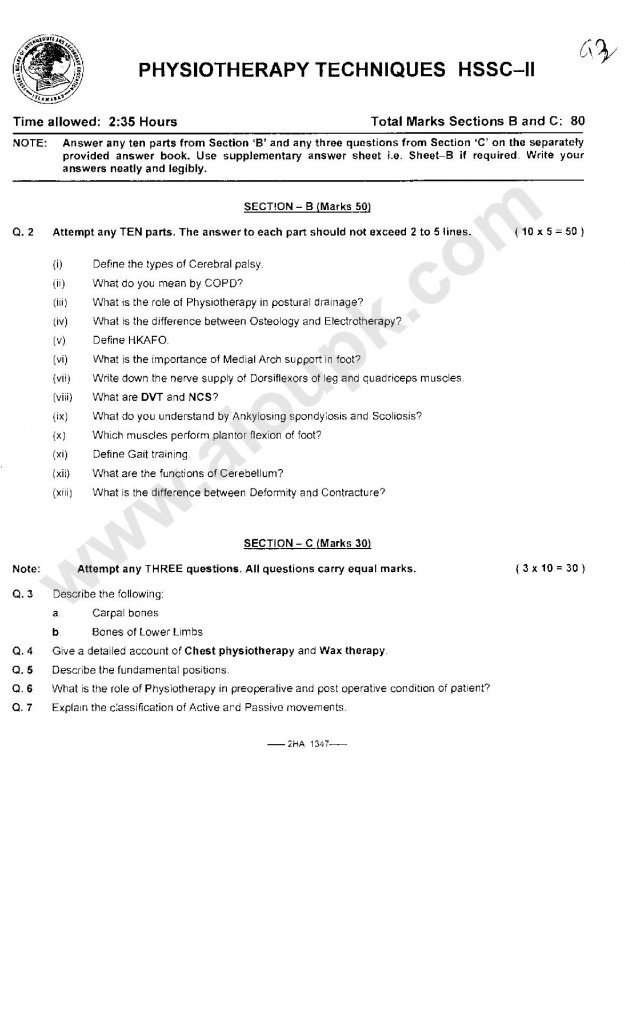 You may be Interested in following Posts :