06 Nov 2023
University of Karachi Acceptance Rate, Ranking (2023)
This prestigious public-sector university has an overall acceptance rate of about 20%. This low figure is indicative of a challenging and competitive selection process through which an applicant had to pass.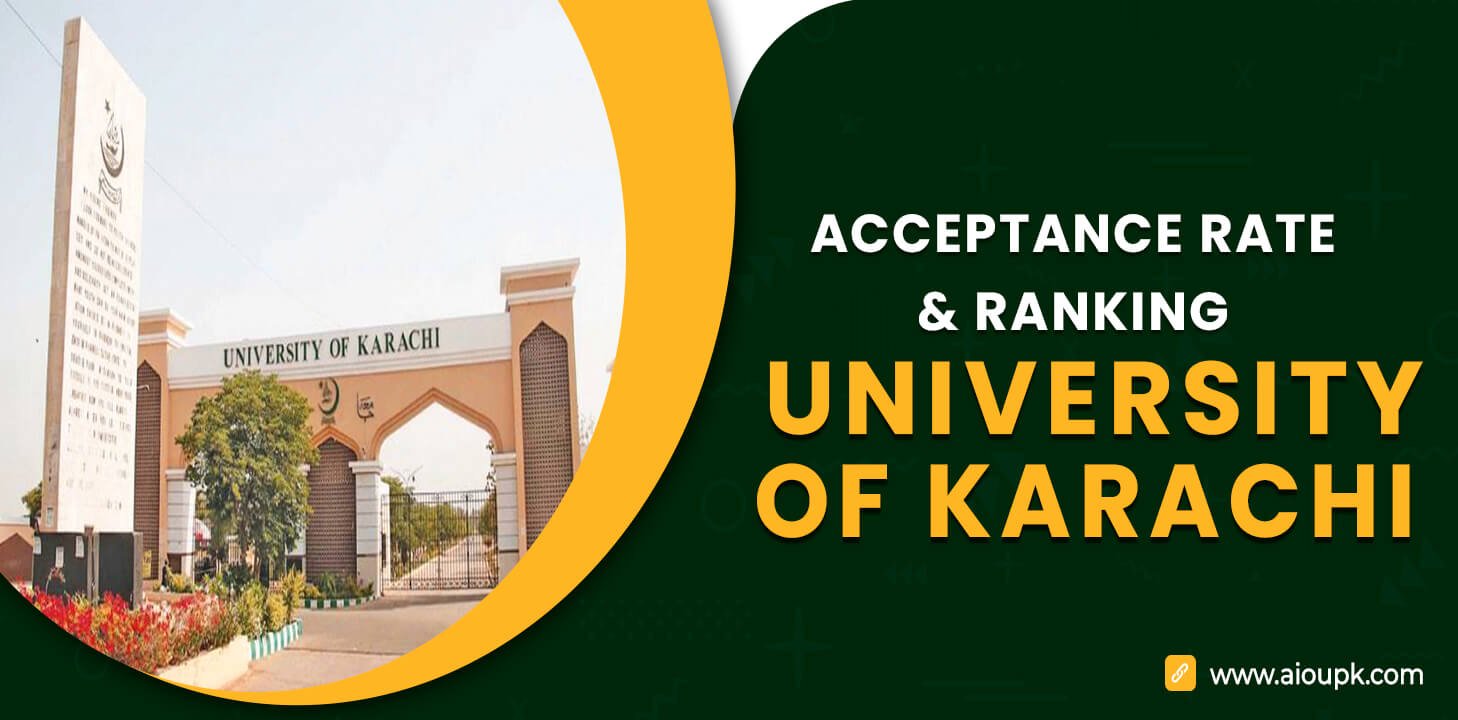 About the University of Karachi:
This university is considered the major educational standard in its home city, Karachi. The foundation of this university was laid in 1951, then later shifted to a new site in 1959. This university is categorized as a public-sector research institute with six faculties. These include medical and pharmaceutical sciences, business management and administrative studies, and arts and engineering faculties. This university has about 41,000 students under the educational umbrella. 
Ranking of the University of Karachi:
This university holds a global ranking of 1501 according to Times Higher Education and resides at position 15 among the Pakistani universities.
| | |
| --- | --- |
| Key Aspects | Details |
| Undergraduate programs (BS) | 60% acceptance rate |
| Postgraduate programs (MPhil/MS) | 50% acceptance rate |
| Scholarships available | Various categories of scholarships (including need-based scholarships) are available |
| Social programs and initiatives | Yes  |
Devotion to Key Founding Aspects:
 KU was set up as a research university to provide instruction and research facilities in the arts, science, technology, pharmacy, business, and medicine.

From the start, KU adopted English as the official language of instruction and administration. This allowed faculty recruitment from international sources and alignment with elite universities worldwide.

KU was founded on principles of academic excellence, research, accessibility for diverse students, and dissemination of progressive Western knowledge – aims that continue to shape the university today.

The University of Karachi was designed to be a multidisciplinary institution, offering a broad spectrum of academic disciplines. This approach allows students to explore diverse fields and fosters an interdisciplinary exchange of ideas.
Admission Opening and Requirements:
The University of Karachi opens admissions twice a year in the Spring and Fall semesters.
The specific admission criteria for this university are;
| | |
| --- | --- |
| Requirements | Criteria |
| FSc | The minimum required is 50% |
| University's Entry test  | The minimum required is 50% |
| Interview | If applicable |
Is the University of Karachi a Good University?
This university provides a diverse cultural program and provides many career options where the knowledge can be translated into practical experience. This university is also particularly famous for science and technology research in the country.
What Are The Major Factors Taken into Consideration for Selection by The University of Karachi?
1) Academic excellence 
This includes high school grades, national exam performance, and other educational qualifications. Strong academic achievement is important for admission consideration.
2) Regional and international students' quota
Being a federal institute, this university provides admissions to students from different regions of the country. This university also provides a quota for admission to international students.
3) Merit-based selection
This university provides admissions to students based on academic distinctions and merit. 
Is there a Career Placement Office at the University of Karachi?
Yes, the University of Karachi typically has a career placement office that assists students with career planning, internships, and job placements. The office may also organize career fairs and workshops.
What Facilities Does the University of Karachi Offer to Students?
The University of Karachi is equipped with modern facilities, including libraries, laboratories, sports facilities, and recreational spaces.